About
We are pleased to present the fourth edition of Economic Issues for Women in Texas. This 2022 study, based on research conducted by Every Texan, takes a comprehensive look at the four pillars that are fundamental to the financial security of a woman and her family: Education, Child Care, Health Insurance and Stable Housing. This study examines both policies and practices at the state level, while identifying areas where innovation and investment can help strengthen women and their families. We encourage our Army of Advocates across Texas to use the study—and its platform of specific recommendations and potential actions—with lawmakers, as well as business and community leaders, to help shape policies and practices that impact women and girls.
From story-telling, information sharing and advocacy, to convening and engagement, we hope that Economic Issues for Women in Texas facilitates a common understanding of the challenges to women's economic security in our state, and motivates a shared commitment to drive solutions that support women and their families and build a stronger Texas for us all.
Texas Women's Foundation
Texas Women's Foundation is a catalyst for positive change across the state, with a focused mission and vision to empower strong women to build a better world. A community-supported organization, Texas Women's Foundation invests in the power of women and girls to drive positive change. Through research, advocacy, programs and grantmaking, we advance economic and leadership opportunities for women, girls and families to build stronger, more equitable communities for all. txwf.org
Every Texan
Since its founding in 1985, Every Texan (formerly the Center for Public Policy Priorities – CPPP) has expanded opportunity and equity for Texans of all backgrounds. Based in Austin, Texas, Every Texan is a nonprofit organization that researches, analyzes, and advocates for public policies to expand equitable access to quality health care, food security, education, and good jobs. Learn more about how Every Texan is making Texas the best state to live in at everytexan.org.
Acknowledgements:

Thank you to the women who shared their stories and the organizations that connected us with these amazing women.

Thank you to our storytellers: Shahad Alfartosy, Elizabeth and Victoria Cruz, Cristina Guajardo, Maria Luisa Hernandez, Dawn Leach, Brandi Miller, Patrevia Moore, Perla Sauceda, Serena Smuckers, Van Trinh, Ashley Walker and Franchesca Williams.
Thank you to our connectors: Deirdre Anderson (Jeremiah Program), Ann Cass (Proyecto Azteca), Kimberly Clarke (The Center for Transforming Lives), Cassie Davis (Texas Appleseed), Jannette Diep (Boat People SOS), Cami Fields (Resource Center), Alejandra Gaytan (Con Mi Madre), Christina Hanger (Dallas Afterschool), Kori Hattemer (Foundation Communities), Katie Mitten (Texans Care for Children), Sabrina Robbins (Catholic Charities), Clarissa Webb (Children's Defense Fund) and Laura Young (University of Texas Health Science Center at Tyler).

Thank you to our portrait photographers: Cara Campbell (Franchesca Williams), Rudy Gutierrez (Elizabeth and Victoria Cruz, Maria Luisa Hernandez), Allison Hess (Shahad Alfartosy, Van Trinh), ©Delcia Lopez/Photography (Perla Sauceda), Justin Rex (Brandi Miller), Spencer Selvidge (Cristina Guajardo, Dawn Leach) and Ben Torres (Patrevia Moore, Serena Smuckers, Ashley Walker).

Thank you to our data partners: Krista Del Gallo, Molly Thibodeaux and Molly Voyles (Texas Council on Family Violence), Sarah Jane Glynn (Center on American Progress), Eva Sikes (Texas RioGrande Legal Aid), Kristin Schumacher (California Budget & Policy Center) and Lila Valencia (Texas Demographic Center).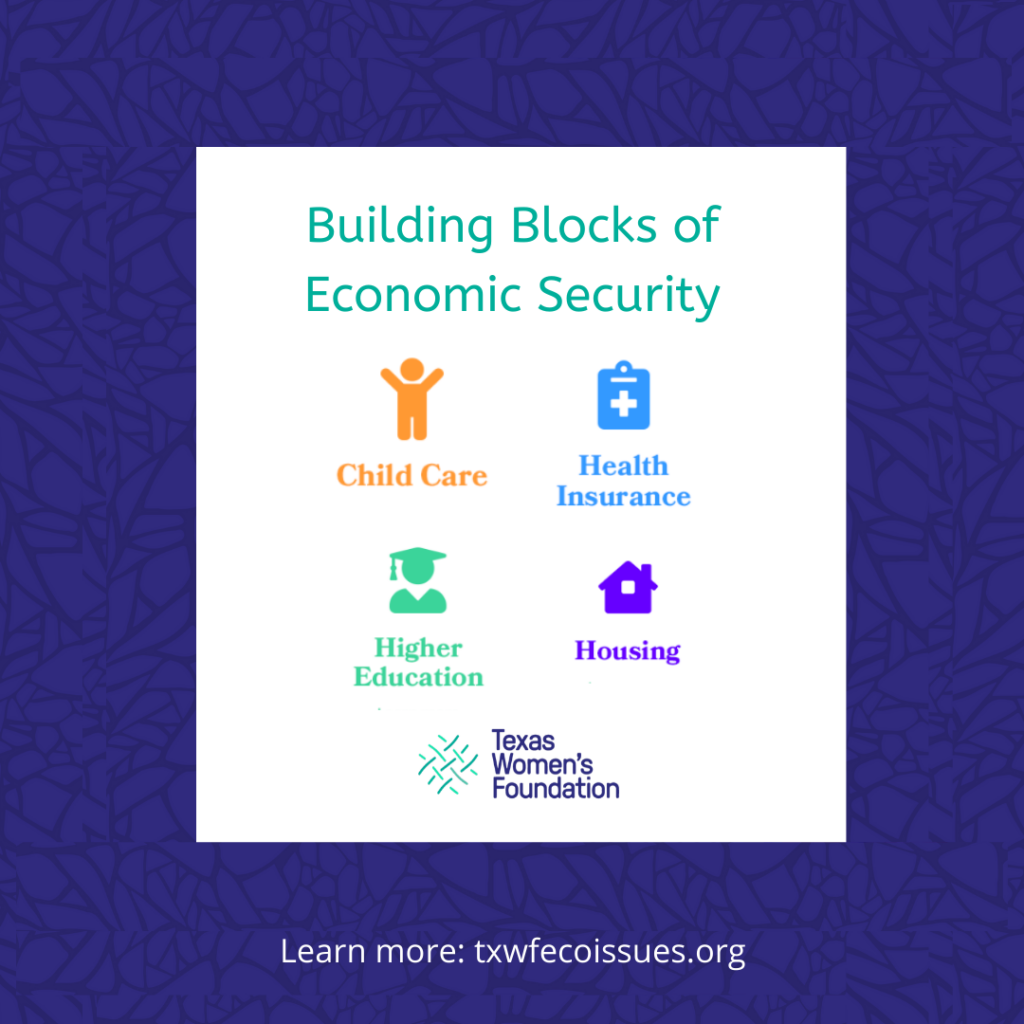 Looking for key data points and shareable graphics from the report?
Check out the digital toolkit for content and graphics to share with your networks and on your digital platforms so that together we can move women and families across Texas from surviving to thriving.